The descriptor you'll frequently hear used to characterize New York's Chinatown is "old school." Indeed, while newer waves of Chinese immigrants have established communities in Brooklyn and Queens, New York's Chinatown remains the same Cantonese-speaking enclave I knew as a child during the 1980s.
Despite the growth of the Chinese population in San Francisco and Los Angeles, New York's Chinatown remains the largest Chinese community on the east coast of the United States. Like its New England neighbor in Boston, New York's Chinatown received its first large influx of immigrants after Chinese laborers were contracted to break a strike at a nearby New Jersey steam laundry plant in 1870.
>> Read more: Our Ultimate Dim Sum Menu Guide with Pictures and Translations
Despite the size and diversity of the local Chinese population, critics of New York's Chinese food scene point to its stagnation. While California restaurants push boundaries to keep pace with new dim sum trends in Vancouver, Hong Kong and mainland China, New York's eateries seem to have chosen specialization ahead of innovation. Indeed, there is a high-quality New York dim sum restaurant specializing in almost every aspect of the classic dim sum experience.
Though traditionalists will scoff, New York's most innovative dim sum is found at Hakkasan in Midtown Manhattan. It's dim sum served in elevated surroundings featuring fresh ingredients and exciting flavor combinations, with prices to match.
Diners seeking more modern, Hong Kong style dim sum should head to Dim Sum Go Go back downtown. You'll find genre-defying dishes like fried pumpkin cakes and taro french fries, alongside more familiar classics in a clean, bright atmosphere.
>> Read more: The Best Teas for Dim Sum
Dim sum newcomers will be at home at either Jing Fong Restaurant, a football field sized dim sum palace, or Nom Wah Tea Parlor, the oldest operating dim sum house in Chinatown. The scenes couldn't be more different — carts and Cantonese shouting at the former, carefully restored 1920s charm in the latter.
Finally, the oldest of the old school can be found at Hop Shing Restaurant, a Chatham Square institution where you're likely to eat your rice noodle rolls at a table with a kindly Chinese grandfather enjoying his morning newspaper.
Read on! Here are the five best dim sum restaurants to try in New York, listed in alphabetical order.
Restaurant Key: Classic — big and boisterous, the full dim sum hall experience. Elevated — exceptional views or ambiance create a more refined dining experience. Modern — fusion or innovative takes on dim sum classics. Hole in the Wall — the food's the only reason to go, and that's a good thing.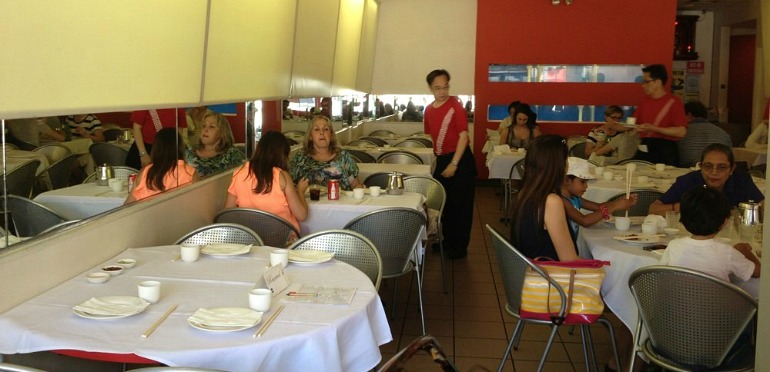 A. Dim Sum Go Go — Modern
5 E Broadway
New York, NY 10038
"The founders of this dim sum parlor were a French-American food writer and a Hong Kong chef. While they're no longer associated with the restaurant, their influence can still be seen in menu items like dumpling dough flavored with beet juice, seasoned beef patties on steamed buns with taro fries, roast chicken smothered with fried garlic stems, and more than 24 kinds of dumplings." – New York Magazine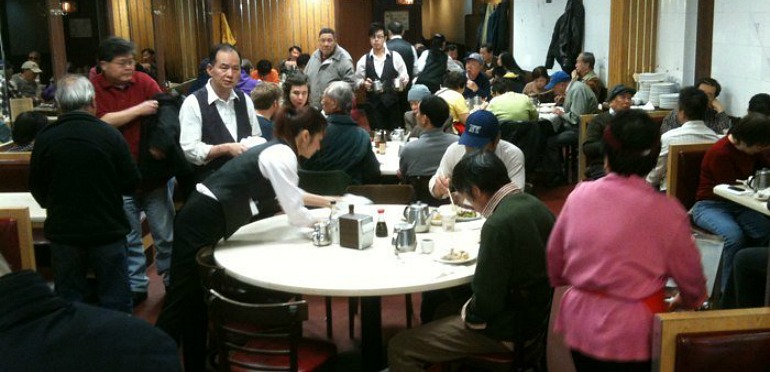 B. Hop Shing Restaurant — Hole in the Wall
9 Chatham Sq
New York, NY 10038
"Hop Shing is probably the first memory I have of eating out. And by eating out, I mean stuffing my 2-year-old face with fistfuls of delicious barbecue pork buns, baked to golden perfection and containing the ideal balance of savory and sweet, while my grandfather chatted with the other old timers over a cup of strong coffee with cream and sugar and the daily Chinese newspaper." – Lick My Spoon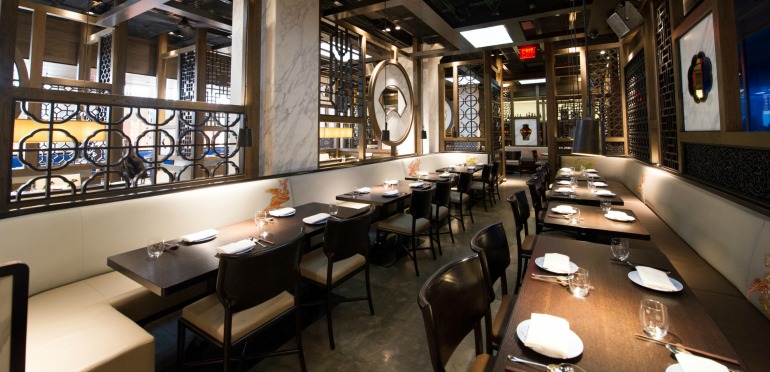 C. Hakkasan — Elevated
311 W 43rd St
New York, NY 10036
"If you've got an expense account and like your dim sum less bustling and a little more refined, ditch the rolling carts. Instead, head to this Midtown spot where they're serving modern, fine-dining takes on the Downtown fare, including scallop shumai, a king crab noodle roll, or a truffle & roast duck bun. Maybe suggest this to your boss." – Thrillist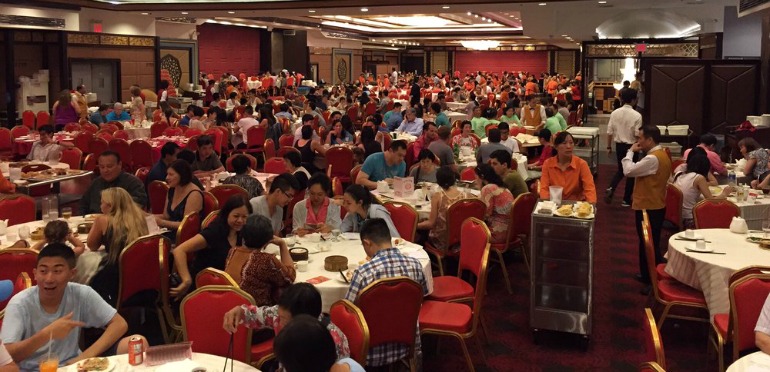 D. Jing Fong Restaurant — Classic
20 Elizabeth St
New York, NY 10013
"Jing Fong is a massive dim sum house, so much so that you have to take a very steep escalator up to the vast banquet hall. Now the culinary onslaught begins. Carts filled with steam baskets and plates of food will be wheeled quickly past you by mainly Cantonese-speaking women who have little to no patience describing what they're offering. Dumplings are cooked up fresh next to the steam tables, this is an area not to be overlooked." – NYC Food Guy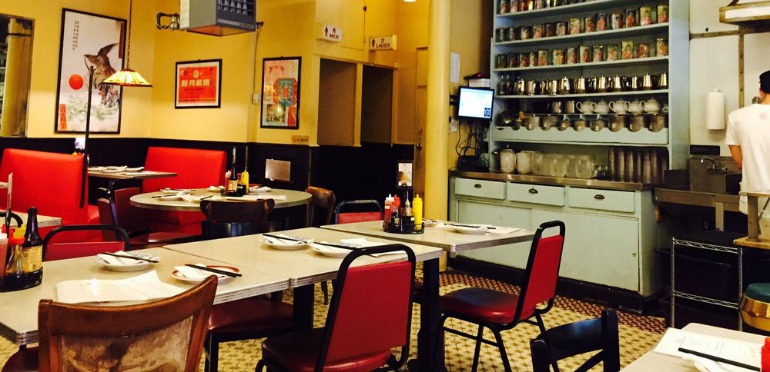 E. Nom Wah Tea Parlor — Modern
13 Doyers St
New York, NY 10013
"Today, the biggest fight on [Doyers Street] is the weekend wait for Nom Wah — now the oldest dim sum parlor in the city and operated by Wilson Tang, who took over from his uncle, Wally, in 2010. Vintage fixtures like red leather booths and shelves of antique tea canisters have been restored, while rattling carts of presteamed fare have been replaced with an all-day, made-to-order menu. The classics remain, though, alongside flourishes like brunch mimosas and gluten-free options." – Time Out New York
---
Let us know what you think! Do you have a better restaurant to recommend? Comment below!