I'm very excited to introduce you to professional chef turned jewelry artist, Melicia Phillips, whose collection of dim sum jewelry we're now featuring in the Dim Sum Central Shop!
Melicia works from her studio in Massachusetts, turning out delicate and delightful necklaces, earrings, charms, bracelets and pins fashioned from silver, bronze and gold. She's a native New Yorker who grew up on the outskirts of Chinatown and cooked in wonderful restaurants across the Northeast during a 30 year culinary career.
You can read all about how Melicia turns inspiration from dim sum dumplings into jewelry designs below and then check out her collection in our Shop.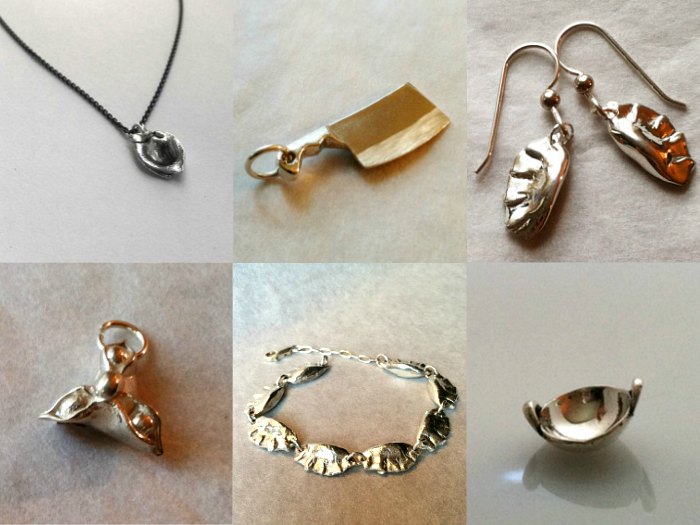 From dumplings and wontons to bamboo steamers and chef's knives, Melicia creates inspired pieces available in sterling silver, bronze, 14K or 18K yellow, white or rose gold. She uses a variety of techniques, including pleating soft wax in much the same way as a dumpling wrapper, to create her designs.
Melicia's designs feature clean lines and an exacting attention to detail that any dim sum lover is sure to notice and appreciate. I'm thrilled to introduce her to you through the interview below.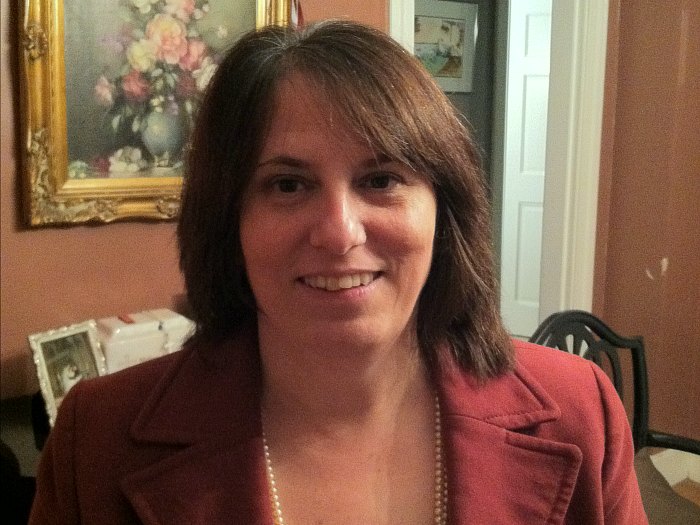 Here's an excerpt from Melicia's bio from her website:
Melicia Phillips is a professional chef turned jewelry artist. She grew up on the Lower East Side of Manhattan, where weekend dim sum dumplings in Chinatown were a staple for her family and later became her first inspiration for jewelry design.
You can learn more about Melicia and her dim sum jewelry collection in our Shop.
I asked Melicia about her inspiration for creating dim sum jewelry, how she designs her pieces, what dim sum dishes she loves most and much more:
—
Why do you make dim sum jewelry and what's the story behind how you got started?
I was a professional chef for 30 years and started to make jewelry for relaxation. One day I got my hands on some precious metal clay. It's a very malleable material and when I first handled it, it felt like dough to me. My hands just naturally turned it into the form of a dumpling and the first potsticker charm was born. I continue to make dim sum jewelry because I love it and my brain is full of visions of dumplings.
Who have you found really enjoys your dim sum jewelry?
This has been the interesting part of my jewelry journey. The dumplings are popular among Asian women and chefs, but I have also learned that "dumpling" is a pretty popular pet name. I have sold quite a few dumplings to men buying them for their girlfriends. I even sold one charm bracelet to a young lady who gave it to her grandmother — the bracelet had one dumpling for each of her grandchildren, who she called her "dumplings."
What's the process for making your jewelry?
One reason I love making dim sum jewelry is that I appreciate the forms it takes. When I want to make a new design, I scan dim sum books and blogs (like Dim Sum Central!) for shapes that I think will translate well into silver and be recognizable. I make the original piece in special modeling wax and then cast in in silver. I started with the dumplings themselves but now am adding iconic accessories, like the steamer basket.
What are your favorite dim sum dishes to eat at the restaurant?
I really love the classics like sticky rice in lotus leaves, soup dumplings, har gow, taro root dumplings and fried bean curd rolls. It's fun to go to a place that has new and exciting things, but I can't leave without having these dishes!
What are your favorite dim sum restaurants in your hometown or in cities you've visited?
Ah, now you are making me hungry with your questions. I am from New York and grew up on the outskirts of Chinatown. My family went almost every Sunday for dim sum and we loved Nom Wah. It was run by lovely people and never changed. They have one dish that I make at home these days…it's sticky rice wrapped up in a wonton wrapper and steamed. Also, a simple rice roll filled with bean sprouts — I just love it. Luckily, their grandson has taken over and the restaurant is still alive. On the opposite extreme is Yank Sing in San Francisco. It's unbelievable! Their soup dumpling are the standard by which all others should be judged. If I lived near Yank Sing, I'd be bankrupt!
Can you share a favorite dim sum memory?
There are so many! I remember one particular Sunday dim sum meal. I went with a large group which included the chef I used to work with. He and his wife, who ran the front of the house, brought their new baby who had the most delicious big cheeks. The restaurant staff made such a fuss over the baby and his cheeks, it was so much fun. That's what's great about going for dim sum — it's such a social experience with everyone sharing food, sitting with strangers and interacting with the dim sum cart ladies.
—
Thanks so much to Melicia for this interview! To learn more about her collection of dim sum jewelry, visit our Shop today.