Makes: 8 | Prep Time: 1 Hour | Cook Time: 30 Minutes
Adapted From: Asian Dumpling Tips
Stuffed eggplant is made by filling Chinese eggplant with mashed shrimp. The dish is equally fresh, savory and aromatic with the flavor of the shrimp complemented wonderfully by salty oyster sauce and wafts of heavenly sesame oil.
The highlight of this dish is the unique flavor of the Chinese eggplant. It's milder than its Western counterparts and acts as a great base for the shrimp filling. Make sure to pick up a couple of really fresh Chinese eggplants at your Chinatown grocer.
I should note that this dim sum dish really works well as a dinner main course, as well. This recipe makes 8 pieces, enough to make a full meal for 2 adults. Prepare a side vegetable and serve with enough white rice to soak up the delicious sauce.
Here's how to make stuffed eggplant, step-by-step. The detailed tutorial with pictures is at the bottom of the page.
Can you share any expert tips from your experience making Stuffed Eggplant? Want to ask a question before you try making it yourself? I'd love to hear from you in the comments section below!
---
Stuffed Eggplant Recipe
Makes: 8 | Prep Time: 1 Hour | Cook Time: 30 Minutes
Adapted From: Asian Dumpling Tips
Ingredients
Filling:
1/2 pound shrimp, peeled and deveined
1/4 teaspoon salt
1 teaspoon cornstarch
1 teaspoon sugar
1/8 teaspoon white pepper
1 teaspoon oyster sauce
1 teaspoon sesame oil
1 teaspoon Shaoxing rice wine
1 egg white, lightly beaten
2 tablespoons finely chopped green onion, white and green parts
1 1/2 teaspoons vegetable oil
2 Chinese eggplants
Sauce:
2 tablespoons oyster sauce
1 teaspoon sugar
1/2 teaspoon cornstarch
1 clove garlic, minced
1 green onion, chopped
Directions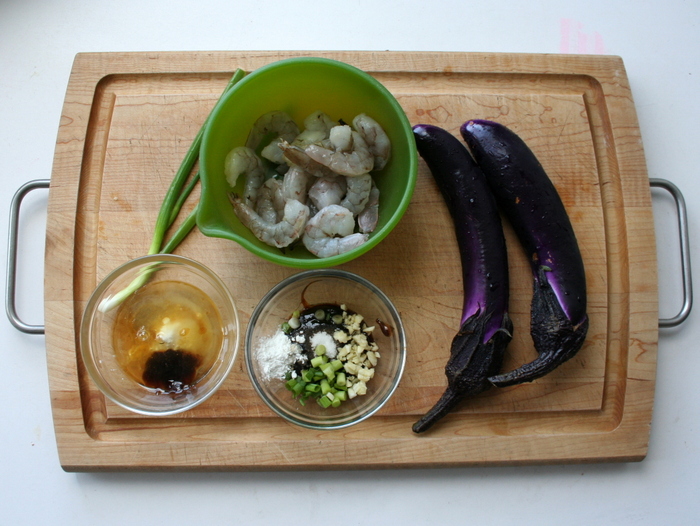 1. Start by gathering your ingredients. You can see the recipe breaks down into a few simple components — shrimp and Chinese eggplant with a marinade for the seafood filling and a sauce to finish the dish.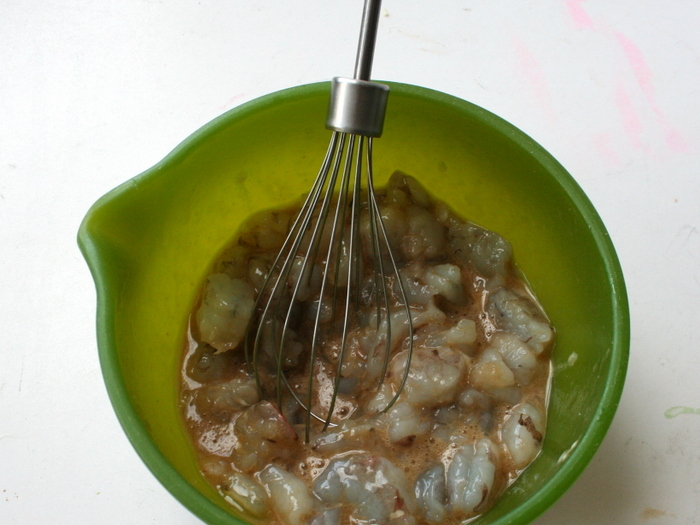 2. Coarsely chop the shrimp, then put them in a bowl. Add the salt, cornstarch, sugar, white pepper, oyster sauce, sesame oil, rice wine and egg white.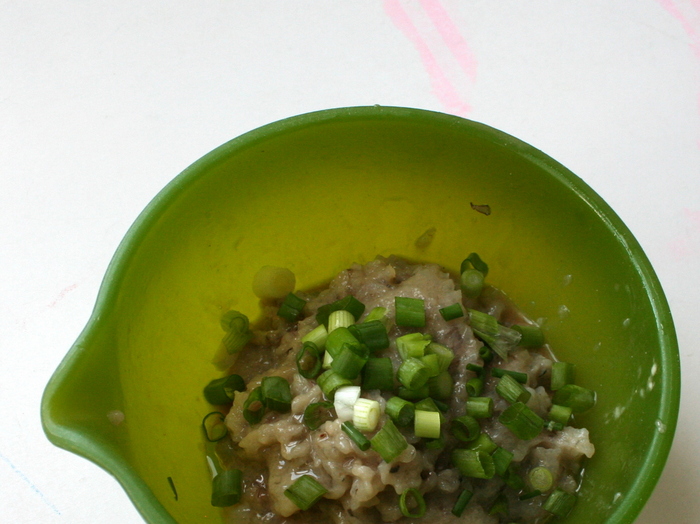 3. Transfer to a food processor and process until a coarse paste forms. Transfer to a bowl, stir in the green onions and vegetable oil. Cover with plastic wrap and set aside in the refrigerator for 15 to 30 minutes. The mixture will stiffen as it sits.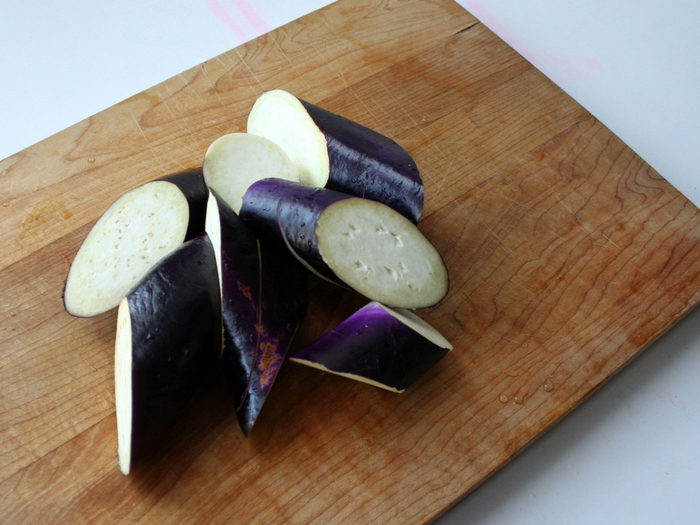 4. Slice each eggplant on the diagonal, about 1 1/2-inch thick, then slice through the middle, but not all the way, to create a pocket for the shrimp.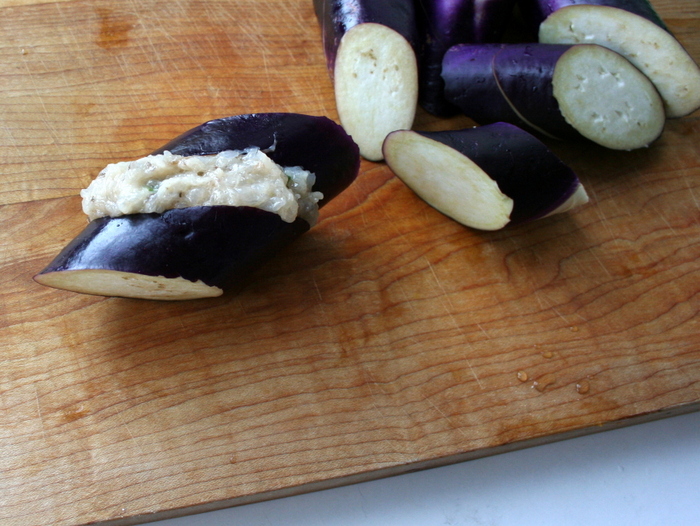 5. Fill each eggplant slice to the top with about a tablespoon of the shrimp mixture.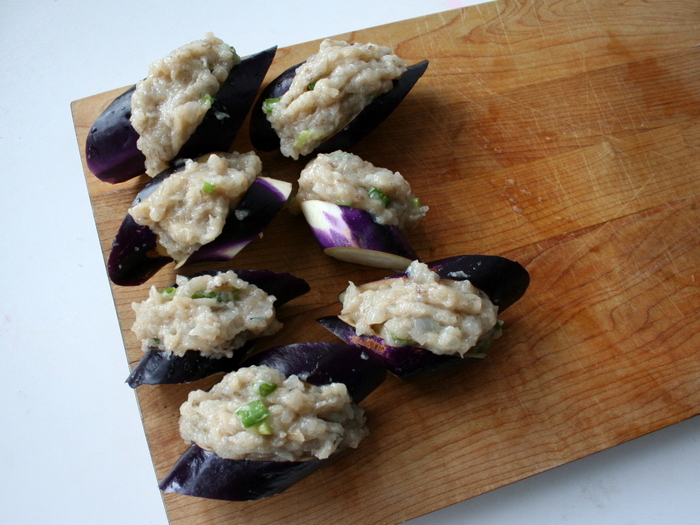 6. Repeat until all the eggplant slices are filled. This is one of the advantages of making this dish at home…you can fill each piece with lots of the good stuff!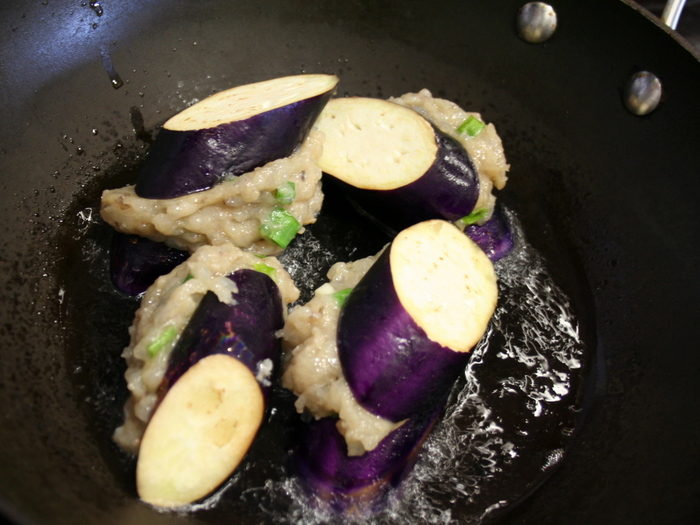 7. Heat a wok over medium-high heat with 1/4 inch of vegetable oil. Working in batches, fry the eggplant slices for two minutes on each side until browned and then move the slices to a paper-lined plate.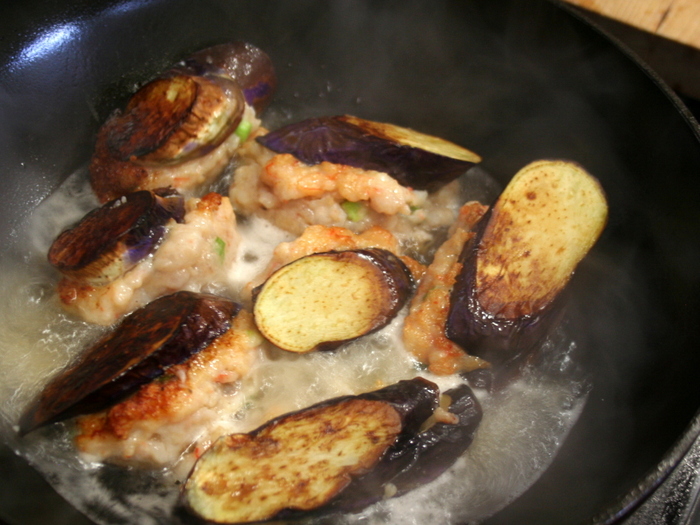 8. Return all the eggplant slices to the wok, add 1/2 cup water and cover. Steam for 8 minutes, until the eggplant is soft and easily pierced with a knife, and the shrimp is pink and cooked through.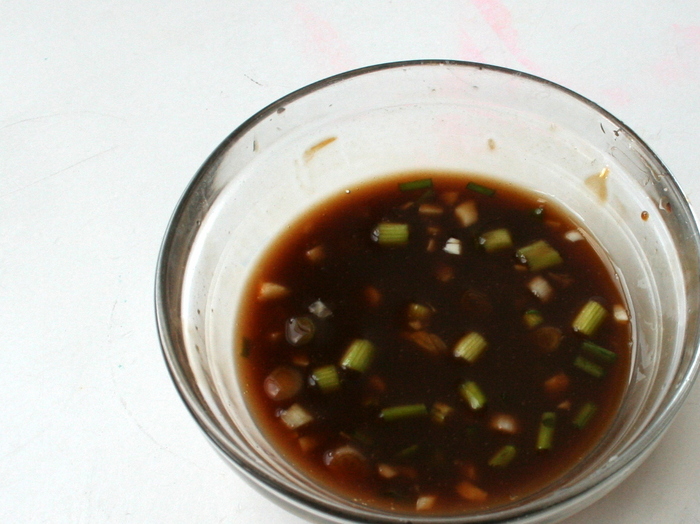 9. In a small bowl, combine the oyster sauce, sugar, cornstarch and 2 tablespoons of water, then add to the pan with the eggplant and stir. Cook for 2 minutes, until sauce thickens.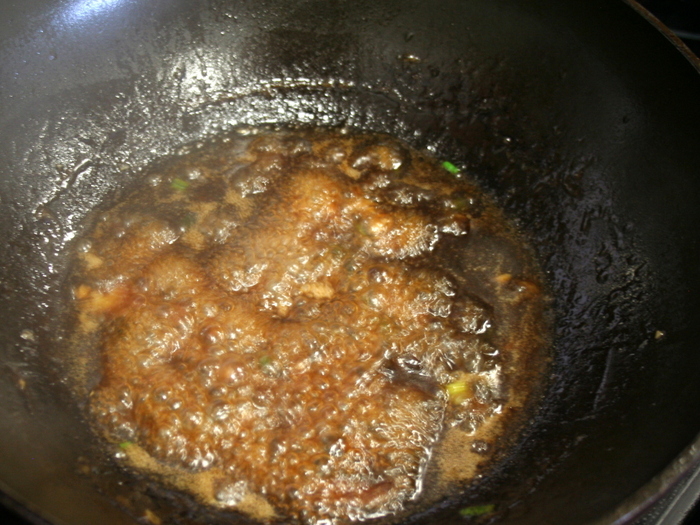 10. Move the eggplant to a plate. Add the garlic and chopped scallion to the sauce and cook for a minute to reduce.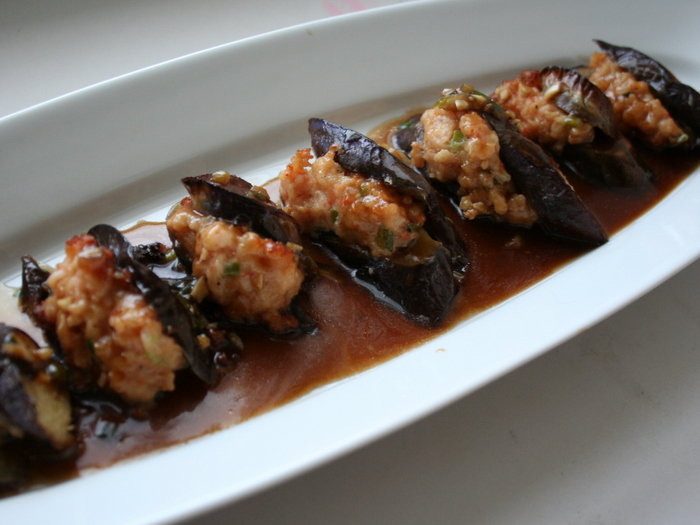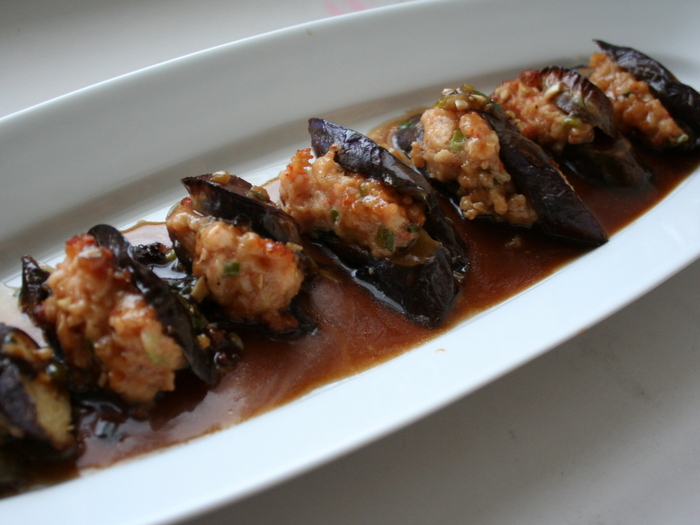 11. Arrange the eggplant on a platter, drizzle the sauce on top and then serve hot!
---
Learn more about Stuffed Eggplant from these Experts
Watch Shanshan make Stuffed Eggplant in her home kitchen (VIDEO)
Ellen Leong Blonder shares a recipe for Stuffed Eggplant from her book, Dim Sum: The Art of Chinese Tea Lunch
Homemade Chinese makes what can be aptly described as homestyle Stuffed Eggplant
HT: Photo by Stuffed Eggplant.