Makes: 12 | Prep Time: 10 Minutes | Cook Time: 15 Minutes
Adapted From: Dim Sum
This is a great dim sum dish that's quick and easy to prepare at home. The juicy shrimp filling is complemented really well by the crisp pepper and the savory sauce. Note that the filling calls for shrimp, but can also be made with a mixture of both shrimp and fish, depending on your preference.
Sometimes the filling won't cook through fully because of all the nooks and crannies in the peppers. When cutting the peppers, trim the crowns so that the shrimp filling can lie flat against the pan. Covering your pan and setting aside on your stove top for five minutes at the end of the allotted cooking time will also help do the trick.
Part of the reason I love this dim sum recipe is that it doubles as a great dinner meal. In this case, assume between 4-6 pieces per person for a full portion and serve with white rice to soak up the tasty sauce.
Here's how to make stuffed bell peppers, step-by-step. The detailed tutorial with pictures is at the bottom of the page.
Can you share any expert tips from your experience making stuffed bell peppers? Want to ask a question before you try making it yourself? I'd love to hear from you in the comments section below!
---
Stuffed Bell Peppers Recipe
Makes: 12 | Prep Time: 10 Minutes | Cook Time: 15 Minutes
Adapted From: Dim Sum
Ingredients
Filling:
1/2 pound shrimp, peeled and deveined
1 green onion, finely chopped
1/2 teaspoon salt
1/4 teaspoon white pepper
1 egg white
3 small green peppers
Sauce:
1 teaspoon cornstarch
1/2 cup chicken broth
1 teaspoon light soy sauce
1/2 teaspoon sesame oil
1/2 teaspoon sugar
1/2 cup chicken broth
2 tablespoons oil
Directions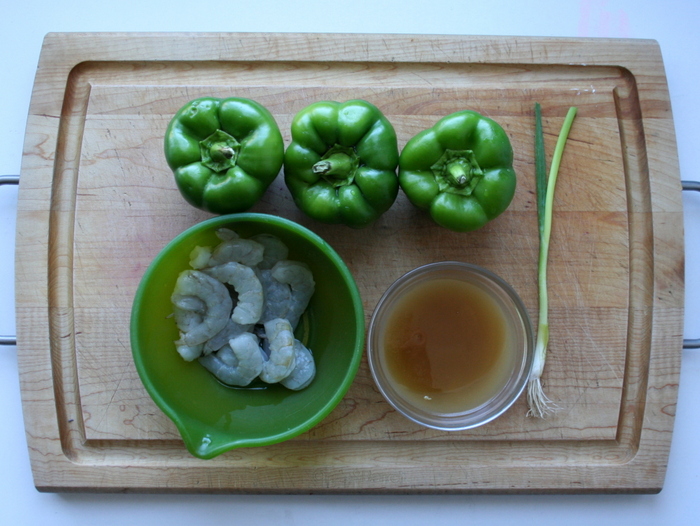 1. Start by gathering your ingredients. This recipe is super simple. All you need are bell peppers, shrimp, a green onion and a few pantry staples for the sauce.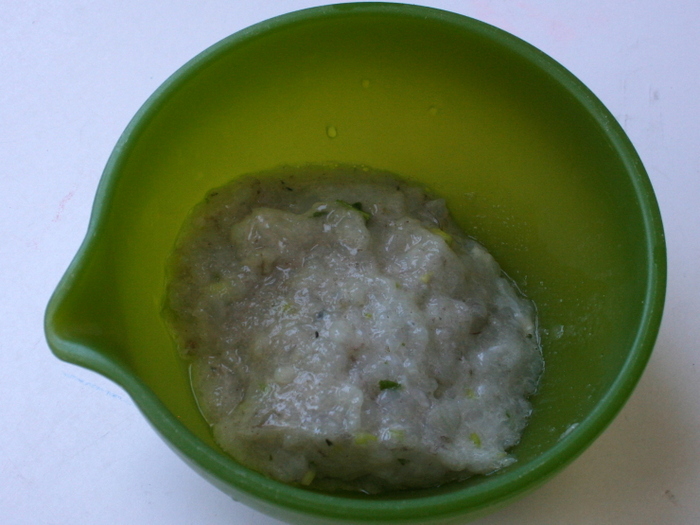 2. Use a food processor to chop the prawns and green onion into a fine paste. Add the remainder of the filling ingredients and combine.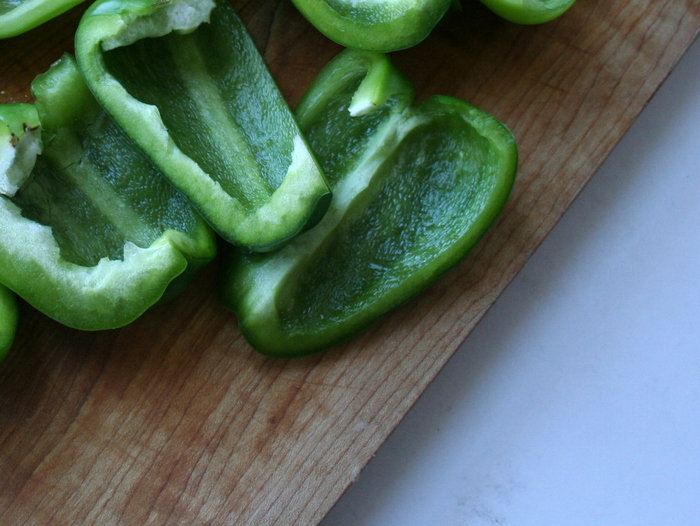 3. Cut the bell pepper into halves lengthwise, taking care to remove the seeds, then cut again lengthwise into quarters.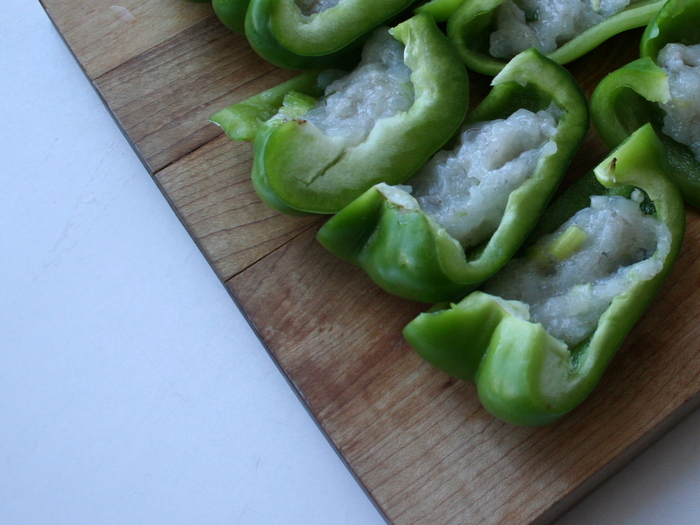 4. Fill the four pieces of each bell pepper with the filling mixture.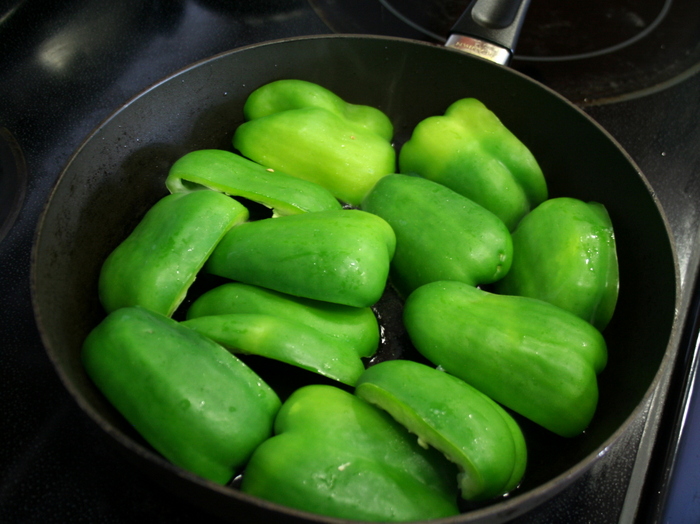 5. Trim the crowns of the peppers, so that the shrimp filling can lie flush against the pan while cooking. Heat the cooking oil in a wok or skillet over medium high heat. Brown the stuffed peppers, stuffing side down, for one minute.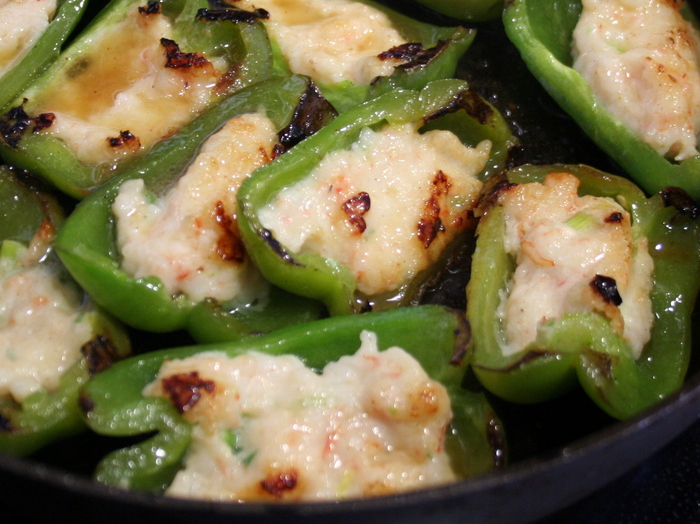 6. Turn the stuffed peppers filling side up and then add 1/2 cup of chicken stock to the pan. Continue cooking over medium high heat for 2-3 minutes, or until the stock is mostly evaporated.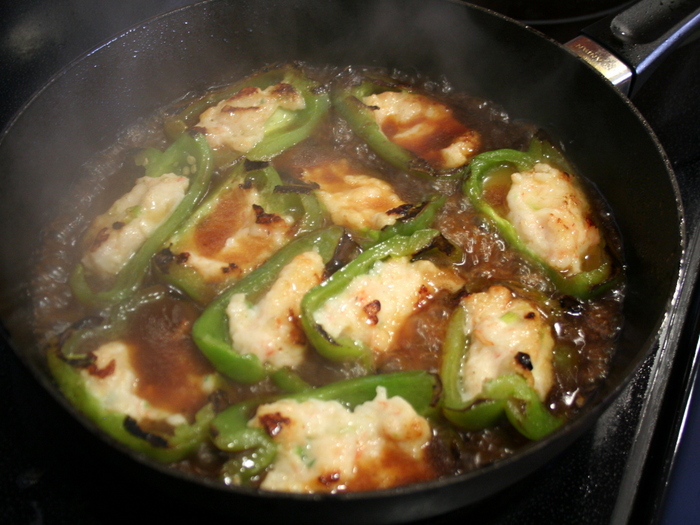 7. Add the sauce mixture to the pan and cook for another minute until bubbling.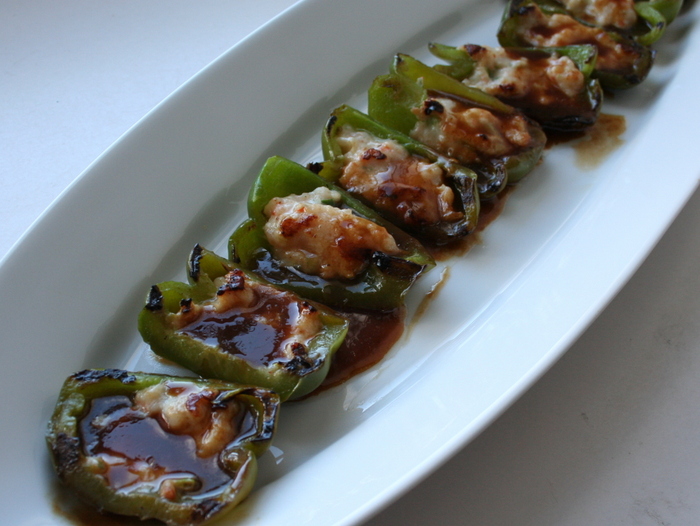 8. Transfer the cooked peppers to a serving plate and then dress with the sauce. Serve immediately.
---
Learn more about Seafood Stuffed Bell Peppers from these Experts
Watch YouCanCookGourmet make Seafood Stuffed Bell Peppers with baby bell peppers (VIDEO)
Whealthy House used red and orange peppers to make Seafood Stuffed Bell Peppers
Key Ingredient shares a very basic, straightforward recipe for Seafood Stuffed Bell Peppers
HT: Photo by An Immovable Feast.