Makes: 12 | Prep Time: 30 Minutes | Cook Time: 30 Minutes
Adapted From: Nee Hao Magazine
Egg tarts are made from an outer pastry crust that is filled with egg custard and baked. Chinese egg tarts developed in Hong Kong from similar pastries introduced to the region through the Portuguese colony in Macau.
It might seem difficult to make the case for baking egg tarts at home when there are just many good examples available in Chinatown for less than a dollar apiece! Here in the Bay Area, Golden Gate Bakery in San Francisco and Napoleon Bakery in Oakland immediately come to mind.
But here's the deal. The reason to make egg tarts at home is that you can create an amazing version yourself! The recipe is straightforward, calling only for an easy butter pastry and a simple custard filling. Impress your friends and family when you serve these beauties at your next dim sum lunch or evening dinner party.
Here's how to make egg tarts, step-by-step. The detailed tutorial with pictures is at the bottom of the page.
Can you share any expert tips from your experience making egg tarts? Want to ask a question before you try making it yourself? I'd love to hear from you in the comments section below!
---
Egg Tarts Recipe
Makes: 12 | Prep Time: 30 Minutes | Cook Time: 30 Minutes
Adapted From: Nee Hao Magazine
Ingredients
Butter Pastry:
3/4 cup butter, softened
1 egg yolk
1/3 cup powdered sugar
1 1/4 cup flour
Custard Filling:
1/2 cup sugar
1 1/4 cup water
4 eggs
1/4 cup evaporated milk
Directions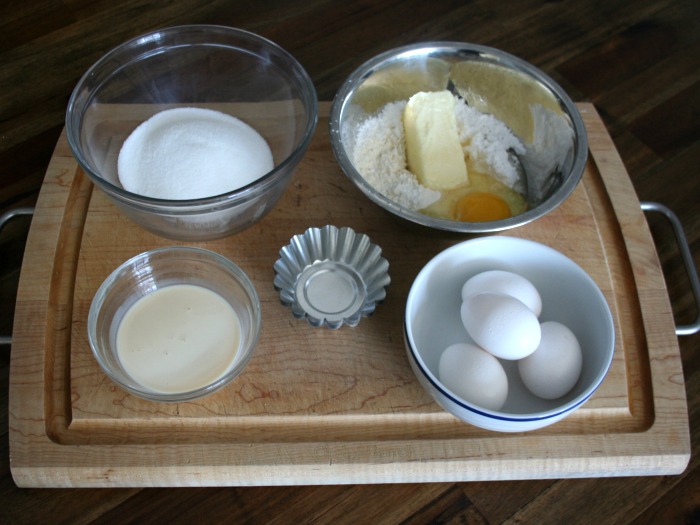 1. The first step is to collect all of your ingredients. As you can see, we're dealing with really basic stuff. Eggs, flour, butter, granulated sugar, powdered sugar, water and some evaporated milk. You can pick up the 3″ x 1.5″ tart molds in Chinatown or at Bed Bath and Beyond.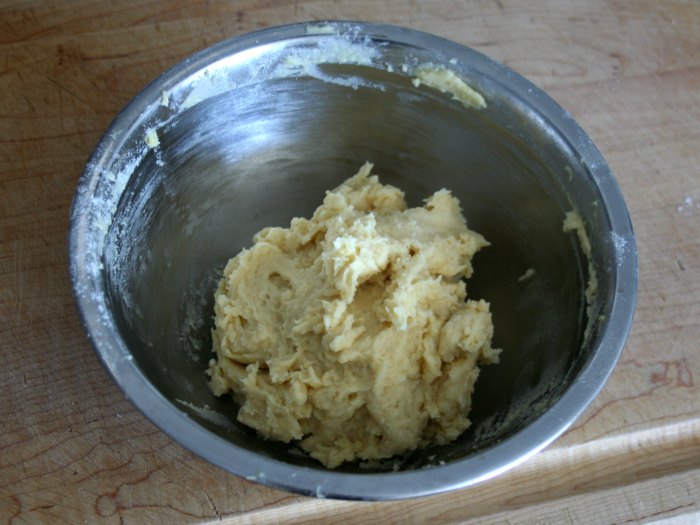 2. Next, combine the butter pastry ingredients into a dough. Basically, keep adding flour until the dough forms a sticky ball. Refrigerate the dough for at least 30 minutes, so that it can firm into a workable consistency.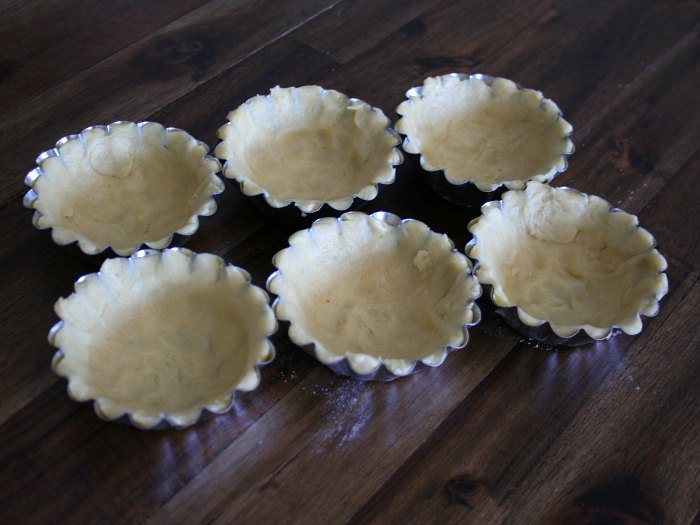 3. Once the dough as cooled, roll it out to 1/4″ thickness and cut it into 3″ circles. Lightly press each dough round into a tart mold and then refrigerate again while you make the filling.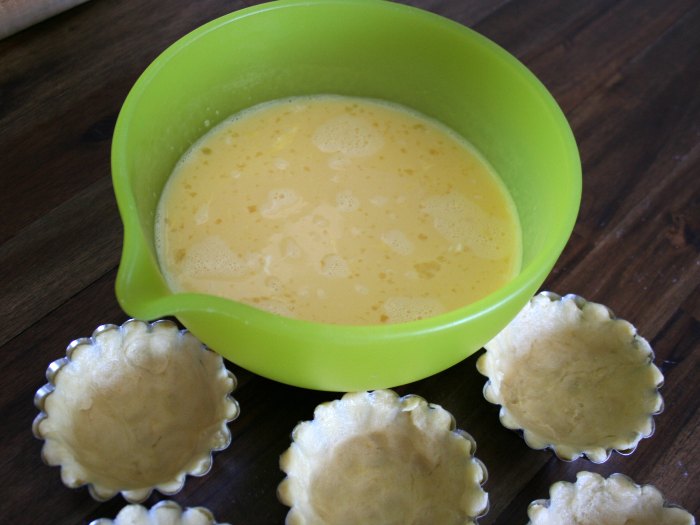 4. The egg tart filling is built from a simple syrup, which you make by bringing the water and sugar together to a boil for about 10 minutes. Set the mixture aside to cool. Once the syrup reaches room temperature, add the milk and eggs and mix well. IMPORTANT! Strain to remove any lumps. I forgot to do this and you can see the result in the pictures — a few bubbles and white spots that don't affect the taste, but which make the tarts look a little less great than they could.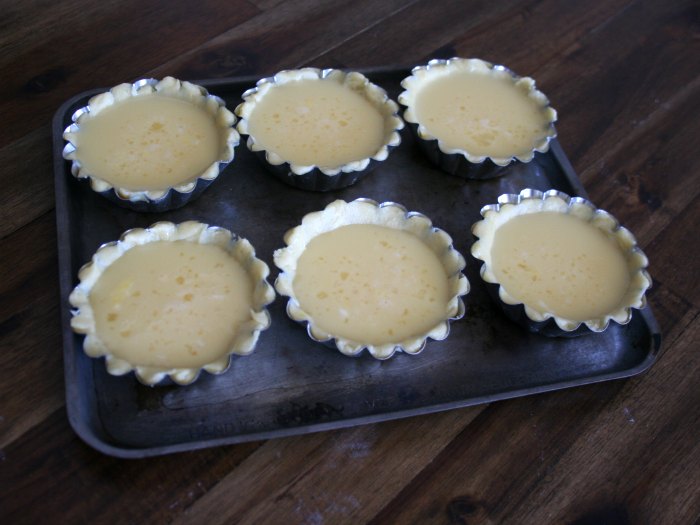 5. Pour the egg mixture into the tart moulds until they are about 80% full. Make sure not to spill the filling mixture, because doing so could make the pastry shells stick to the tart molds.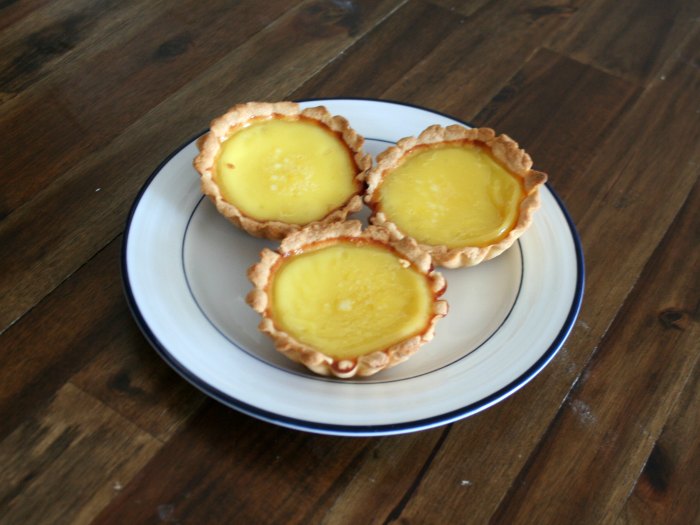 6. Finally, bake the tarts at 400 degrees for 35 minutes. You'll know the tarts are ready when the filling visibly puffs up over the edges of the pastry shells. Once you remove the egg tarts from the oven, you can let them cool for a minute and serve warm, or save them in the refrigerator for later.
---
Learn more about Egg Tarts from these Experts
Watch iHEARTcookinggg make Egg Tarts with fluffy puff pastry (VIDEO)
Kirbie's Cravings raves about Chinatown Egg Tarts
Bonnie from Thirsty for Tea shares her recipe for Egg Tarts