San Francisco's dim sum restaurants rival only those found in Los Angeles, in terms of their quality and diversity. Though the region's best hot spots are found in suburban cities like Millbrae, Cupertino and Fremont, eateries in San Francisco proper offer up better dim sum than what you'll find in almost any other city in the United States.
San Francisco has the oldest and largest Chinatown in the United States, dating back to the California Gold Rush in 1849 and the subsequent construction of the Transcontinental Railroad. Over the years, San Francisco has served as the port of entry for countless Chinese Americans who later settled across the United States.
>> Read more: Our Ultimate Dim Sum Menu Guide with Pictures and Translations
What makes for an excellent dim sum scene? It's a combination of a large local Chinese population demanding delicious cuisine, a long-standing cultural tradition in the area and a constant influx of new immigrants who bring new ideas and cooking techniques. The result is better general quality and care in preparation of the dim sum classics, as well as innovative new dishes that push the cuisine forward.
Picking the best dim sum restaurants in a city like San Francisco is actually a pretty easy task (though selecting the single best would inspire terrific debate). In reality, you can visit any of the five restaurants below with the confidence that you'll have a wonderful meal.
Koi Palace, just to the south of San Francisco, remains the city's best dim sum restaurant. It's a 400 seat beast of a restaurant that somehow manages to turn out delicious dishes despite the crowds.
>> Read more: The Best Teas for Dim Sum
Back in town, you'll find the best eats in the Outer Richmond and Outer Sunset neighborhoods. Though unaffiliated, Hong Kong Lounge and Hong Kong Lounge II are both excellent choices for refined versions of the classics, as well as new dishes that rival what you'll find turned out of Hong Kong kitchens. Meanwhile, S&T Hong Kong Seafood Restaurant is a local gem that often overlooked by restaurant reviewers.
Finally, if you're looking for a slightly different experience, you might enjoy checking out Mama Ji's, a relatively recent arrival on the restaurant scene that prepares contemporary homestyle dim sum in San Francisco's Castro neighborhood.
Read on! Here are the five best dim sum restaurants to try in San Francisco, listed in alphabetical order.
Restaurant Key: Classic — big and boisterous, the full dim sum hall experience. Elevated — exceptional views or ambiance create a more refined dining experience. Modern — fusion or innovative takes on dim sum classics. Hole in the Wall — the food's the only reason to go, and that's a good thing.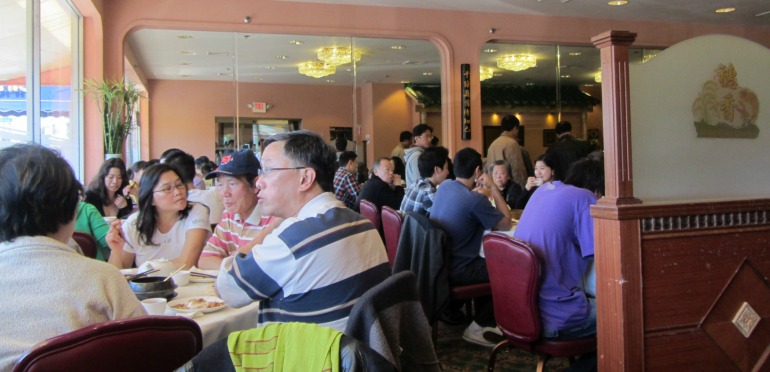 A. Hong Kong Lounge — Classic
5322 Geary Blvd
San Francisco, CA 94121
"Hong Kong Lounge is not for novices. Most of the large crowd trying to jostle ahead of you on the waiting list speaks Chinese; the waiters are arrogant; it's noisy. But the food quality is superb and varied. The baked pork buns are the best in town, with a crunchy top that contrasts the soft interior and meaty, savory filling. Prepare to wait an hour on weekends at prime time, but it's worth it." – SF Weekly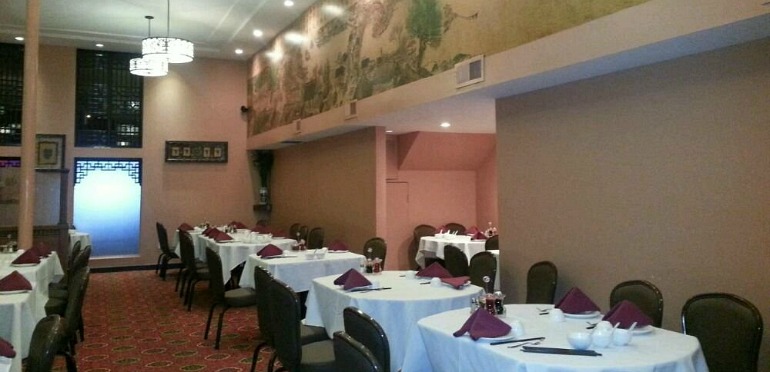 B. Hong Kong Lounge II — Classic
3300 Geary Blvd
San Francisco, CA 94118
"Hong Kong Lounge II's dim sum turns out to be unique, with striking and original dishes that I have not had anyplace else. First and foremost are the baked pork buns — not steamed. These have a crunchy top that practically disappears into a sweet pork interior, so each bite has a satisfying ratio of bun to filling — a knockout. Practically every dim sum dish at Hong Kong Lounge II gets a twist. Steamed chicken feet are battered, fried and then braised with cinnamon and other sweet spices. I could spend an afternoon gnawing the cartilaginous flesh off the claws. Crispy black pepper pork riblets have heat, succulence and engaging chewiness." – Unterman on Food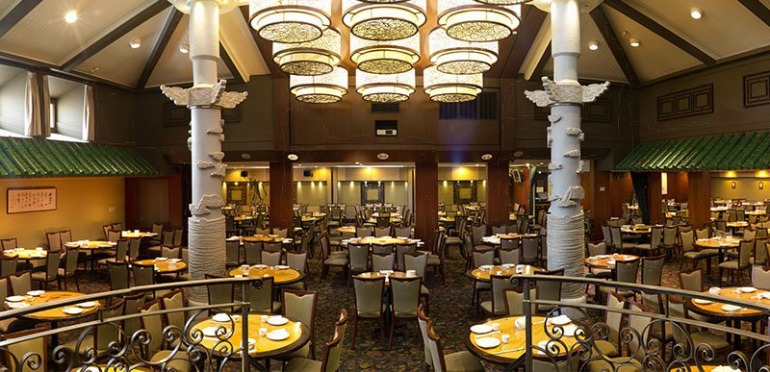 C. Koi Palace — Classic
365 Gellert Blvd
Daly City, CA 94015
"This Daly City spot in the Serramonte strip mall is legit. Old ladies push carts of steaming Hong-Kong style dim sum baskets around the extravagantly decorated, 400-seat banquet hall and stack your selection on top of one another at your table. It's loud, overwhelming, and totally worth it." – SFist
D. Mama Ji's — Modern
4416 18th St
San Francisco, CA 94114
"The words 'dim sum' conjure images of roving carts, chicken feet, and indecipherable character-filled menus. There are crowded tables, long waits, and florescent lights. So it is a little peculiar to walk into Mama Ji's on a sunny Sunday afternoon and be greeted with English menus, tiny tidy tables, and a full selection of Belgian beers. The room is strangely calm, even with a packed house—chalk it up to the lack of background music and patrons' enthusiastic noshing." – KQED
E. S&T Hong Kong Seafood Restaurant — Classic
2578 Noriega St
San Francisco, CA 94122
"This isn't your everyday dim sum joint, though it looks like a typical no-frills Chinese restaurant with crowded tables and pale walls hung with cluttered art. Ignore the brusque, sometimes rude service and check out niceties like the live geoduck clam tank, plus upscale dishes like lobster noodles or bronze-skin Peking duck. Soya duck tongue, chicken feet, fried frog with salty egg yolk, and jellyfish with ham hock may require adventurous appetites, but there are tamer plates to be had, too, like succulent roast squab, sweet corn and crab soup and har gow studded with plenty of shrimp." – SF Gate
---
Let us know what you think! Do you have a better restaurant to recommend? Comment below!