When it comes to dim sum, the San Gabriel Valley cities east of downtown Los Angeles are an embarrassment of riches. These communities are home to the top Hong Kong style dim sum restaurants in the United States, matched only by those found in Vancouver and Toronto in terms of their renown and acclaim across North America.
Chinese Americans have lived in Los Angeles since the 1860s, when a thriving downtown Chinatown formed following the completion of the Transcontinental Railroad. Following a period of decline after the neighborhood's heyday around the turn of the century, the Chinese community established a "New Chinatown" in 1938 about a mile away after being forcibly removed to allow for construction of Union Station. In recent years, the existing Chinese community, buoyed by thousands of new arrivals from Taiwan and mainland China, has moved eastward to cities like Monterey Park, Alhambra and Arcadia.
>> Read more: Our Ultimate Dim Sum Menu Guide with Pictures and Translations
Why is the Los Angeles dim sum scene so amazing? Restaurants have identical menus. Service remains lacking. Long waits are the norm. Decor is unremarkable. Driven by the large local Chinese community's demand for excellence, however, the restaurants found in the San Gabriel Valley produce a consistent level of quality and variety you just won't find anywhere else. Simply put, diners vote with their dollars.
Picking five great dim sum restaurants in Los Angeles is an easy, yet impossible task. You could eat dim sum every day for a week and still miss several excellent restaurants. In fact, our list below doesn't include many hot spots worthy of honorable mention like New Capital Seafood (best no frills experience), Bao Dim Sum House (best in Los Angeles proper) and Empress Harbor (best serving on carts). You'll just have to save these places for a future trip.
Sea Harbour Seafood Restaurant and Elite Restaurant are the top two foodie favorites in the San Gabriel Valley. Plates arrive at the table steaming hot, quality and portion size are exceptional and exciting new flavors populate the menu. Visit both and we'll let you decide which is best.
>> Read more: The Best Teas for Dim Sum
King Hua Restaurant and Lunasia Chinese Cuisine, minutes apart in Alhambra, sit at the region's second tier, which is still better than what you'll find in almost any other U.S. city. Online reviewers rave about these restaurants' food and elegant decor.
China Red is the newest addition to our list and its Arcadia location requires the longest drive from downtown Los Angeles. However, your effort is rewarded with a distinctly modern and contemporary dim sum experience that reviewers put on par with what's being served in Hong Kong today.
Read on! Here are the five best dim sum restaurants to try in Los Angeles, listed in alphabetical order.
Restaurant Key: Classic — big and boisterous, the full dim sum hall experience. Elevated — exceptional views or ambiance create a more refined dining experience. Modern — fusion or innovative takes on dim sum classics. Hole in the Wall — the food's the only reason to go, and that's a good thing.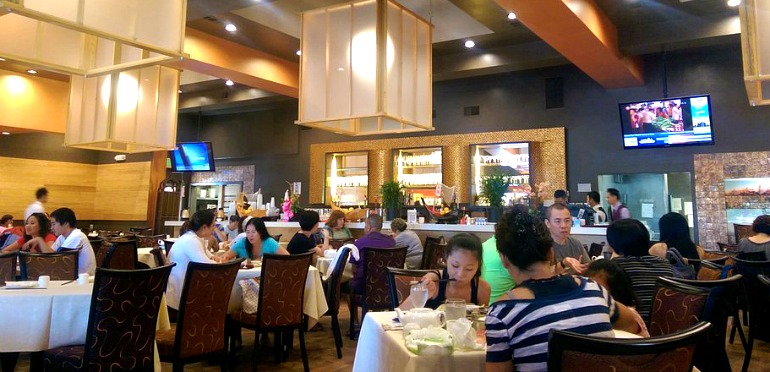 A. China Red — Modern
855 S Baldwin Ave
Arcadia, CA 91007
"China Red has food that is on par with Hong Kong's modern style dim sum. Everything has a modern East-meets-West vibe. No ugly red and gold dragon phoenix decorations here. Don't expect to see any push carts, but do expect the traditional favorites as well as fun and inventive fusion dishes. All dishes are clearly labeled on a paper menu. There are no pictures so you'll need to study up on your dim sum dishes before going. Dumpling skins are delicate, thin, and chewy and buns have lots of flavor. China Red's tea is quite fancy. It comes with a sifter to prevent flowers and tea leaves from entering your drink." – LAist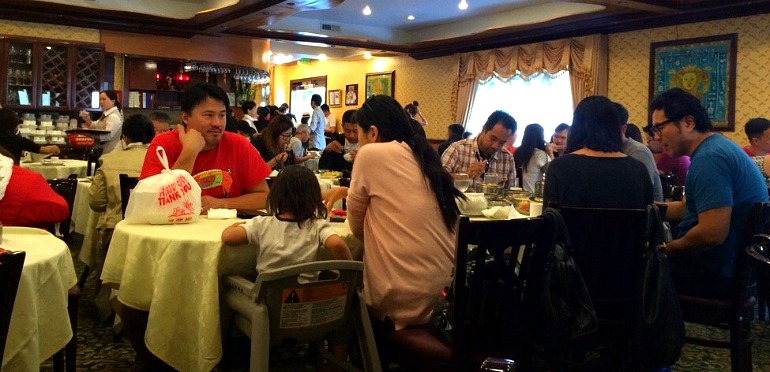 B. Elite Restaurant — Classic
700 S Atlantic Blvd
Monterey Park, CA 91754
"The dim sum staple, shumai — a chewy, pork-stuffed, egg noodle-enrolled piece of Chinese magic — is topped with a scallop here, giving it a seafood hit on top of the pork fantasticness. You should get that, but also their almost donut-like baked pork buns" – Thrillist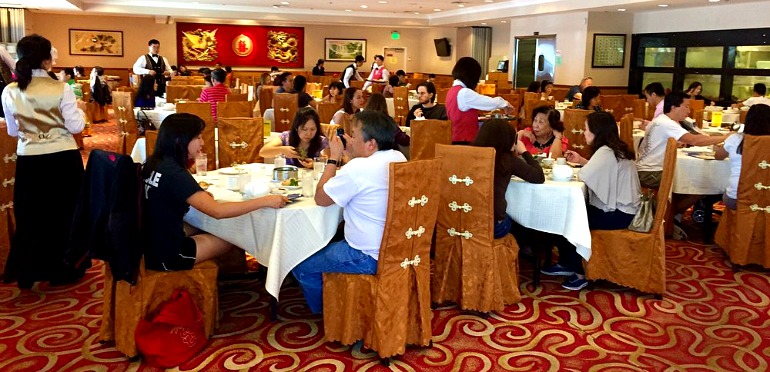 C. King Hua Restaurant — Elevated
2000 W Main St
Alhambra, CA 91801
"Exemplifying its regal heritage in more than name, King Hua delivers refined dim sum in a fancy-pants dining room. Devour har gow with plump, fresh shrimp, nimbly bound in a translucent dumpling or dig into the treasure trove of goodies inside lotus leaf–wrapped sticky rice. The famed baked chicken salad bun—a sweet and crunchy bite of flavor—is filled with chicken, peas, carrots and scallions. Other menu items demonstrate King Hua's focus on presentation: Lucky clover shrimp dumpling is intricately topped with goji berry, pea and corn; and the standard siu mai is overflowing with bright orange roe." – Time Out Los Angeles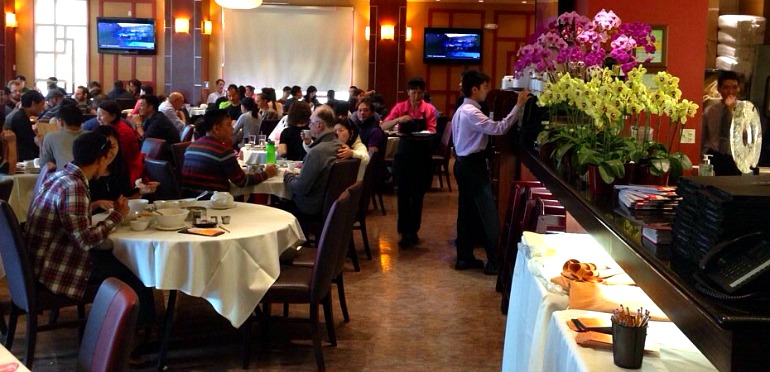 D. Lunasia Chinese Cuisine — Elevated
500 W Main St
Alhambra, CA 91801
"Lunasia consistently remains my top pick because of the combination of atmosphere, quality, and portion size. It's a gorgeous venue and the dim sum bites are enormous. A typical shrimp dumpling has three or four pieces of shrimp crammed into its translucent wrapper. Don't forget to finish off with dessert. Lunasia has an almond milk soup served with egg white and topped with a flaky puff pastry." – KCET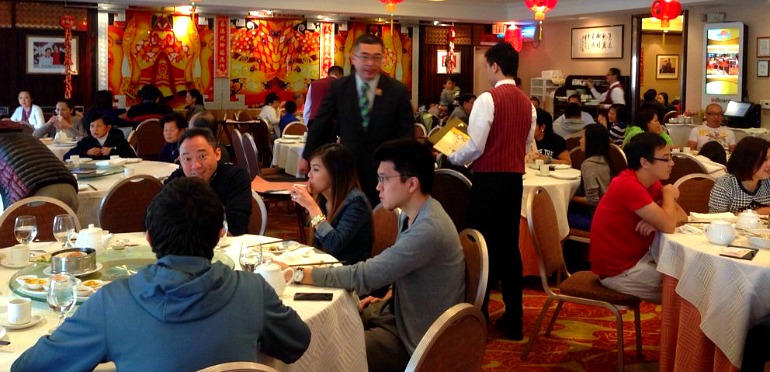 E. Sea Harbour Seafood Restaurant — Classic
3939 Rosemead Blvd
Rosemead, CA 91770
"Sea Harbour Seafood Restaurant is one of the few dim sum places that really pays attention to both quality and portions. Although the restaurant has become a Mecca of sorts for hard-core dim sum pursuants, there is no loss of authenticity. The staff is pure Cantonese. Even fluent Mandarin speakers struggle a bit, but the language barrier isn't that big of an issue when you order off a checklist accompanied by a complimentary picture menu with numbers. Sorry traditionalists: No carts here. But what it loses with the lack of speeding dim sum ladies, the restaurant makes up for in atmosphere. There's no heckling or unbearable noise levels; you can enjoy your breakfast in peace. Dishes fly out of the kitchen steaming hot and the restaurant makes a point of creating a menu that combines classic dim sum dishes with eclectic new flavors." – LA Weekly
---
Let us know what you think! Do you have a better restaurant to recommend? Comment below!