Makes: 24 | Prep Time: 1 Hour | Cook Time: 30 Minutes
Adapted From: Rhonda Parkinson
Spring rolls have a thin, crispy wrapper with shrimp and vegetables inside. They can be filled with almost anything, though most versions contain minced meat and vegetables.
Spring rolls are a perfect dish to start with when you're just beginning to learn how to make dim sum. They're easy to make and you are rewarded with a finished product that rivals what you eat at the restaurant. Filling and folding spring rolls is also a fun activity for children, if you have any young aspiring chefs in your life.
This recipe will produce approximately 24 spring rolls, which is a satisfying result for an afternoon of work. Immediately fry what you'll need for your meal and freeze the rest for a future date.
Here's how to make spring rolls, step-by-step. The detailed tutorial with pictures is at the bottom of the page.
Can you share any expert tips from your experience making spring rolls? Want to ask a question before you try making it yourself? I'd love to hear from you in the comments section below!
---
Spring Rolls Recipe
Makes: 24 | Prep Time: 1 Hour | Cook Time: 30 Minutes
Adapted From: Rhonda Parkinson
Ingredients
Filling:
6 dried black mushrooms
1/4 pound lean ground pork
1 tablespoon soy sauce
1/4 teaspoon sesame oil
Pinch of cornstarch
10 medium raw shrimp, shelled and deveined
1 tablespoon Chinese rice wine
1 teaspoon cornstarch
1 cup bean sprouts
1/2 red bell pepper
4 green onions
1/2 carrot
1 cup shredded Napa cabbage
Sauce:
2 tablespoons oyster sauce
1 tablespoon Chinese rice wine
2 tablespoons dark soy sauce
1 teaspoon sesame oil
1 teaspoon chopped garlic
1 teaspoon chopped ginger
24 spring roll wrappers
4 cups oil for deep-frying, plus about 6 tablespoons for stir-frying
Directions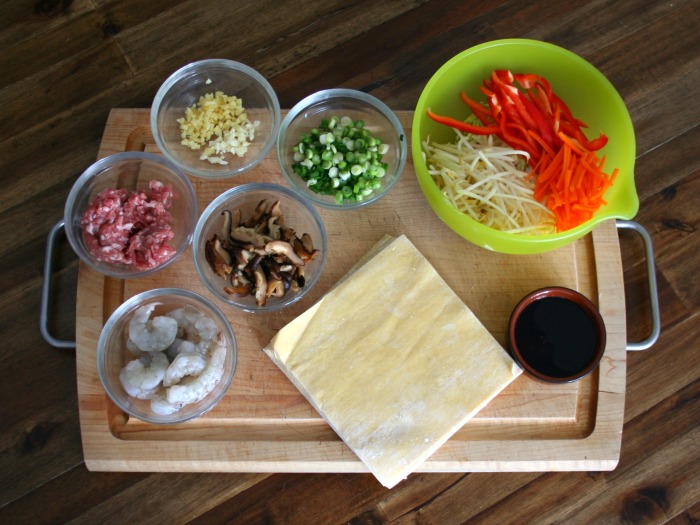 1. Start by gathering your ingredients. This recipe is all about the prep work! Soak the dried mushrooms in hot water for 20-30 minutes, then squeeze out any excess water, remove the stems and slice finely. Rinse the bean sprouts and drain thoroughly. Wash the red bell pepper and dice. Wash and dice the garlic chives. Wash and shred the carrots and cabbage. Finally, in a small bowl, mix together the oyster sauce, rice wine, dark soy sauce and sesame oil. Set aside. You'll end up with a cutting board full of delicious morsels!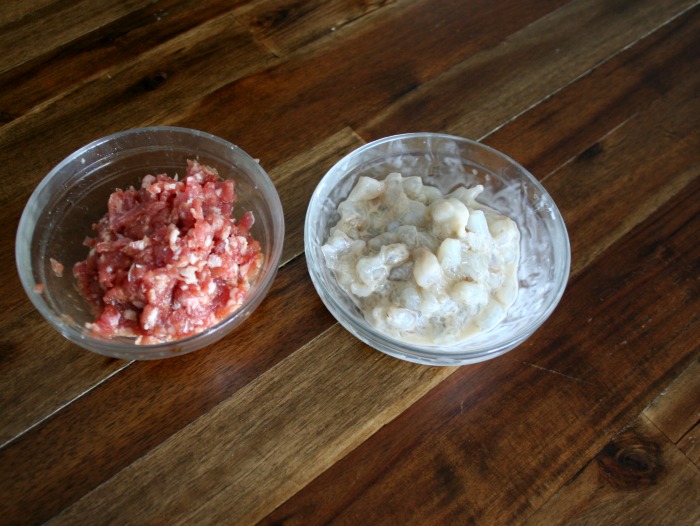 2. Put the ground pork in a bowl. Add the soy sauce, sesame oil and cornstarch. Marinate for 15 minutes. Rinse the shrimp under warm running water. Pat dry with paper towels. Chop finely. Toss with the rice wine and cornstarch. Marinate for 15 minutes.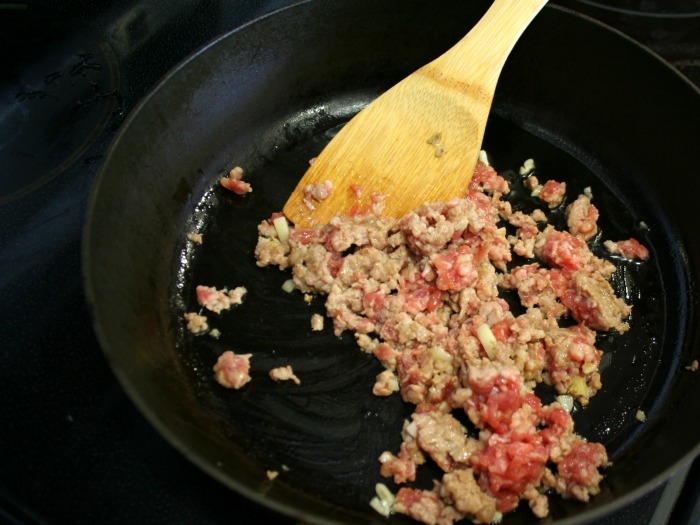 3. Heat the wok over medium-high to high heat. When the wok is hot, add 2 tablespoons oil. When the oil is hot, add the garlic and stir-fry until aromatic. Add the pork. Stir-fry until it turns white and is about 80 percent cooked through. Remove from the wok and drain on paper towels.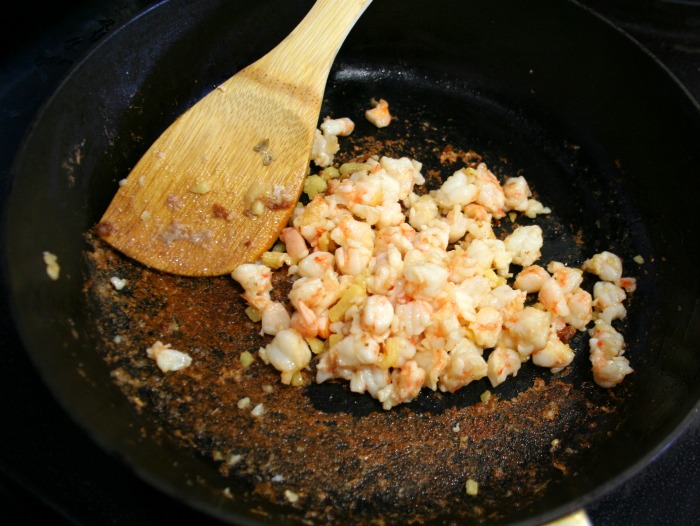 4. Add 2 tablespoons oil to the wok. When the oil is hot, add the ginger. Stir-fry until aromatic. Add the shrimp. Stir-fry until they turn pink. Remove from the wok and drain.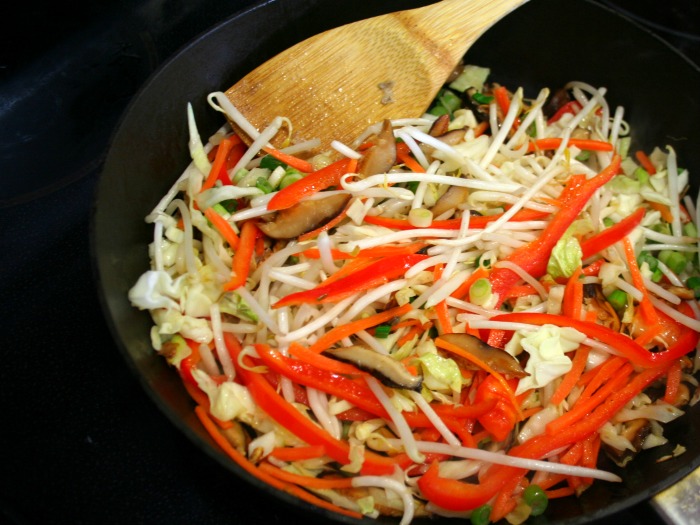 5. Add 2 tablespoons oil to the wok. When the oil is hot, add the vegetables, one at a time, beginning with the mushrooms, then the red bell pepper, cabbage, garlic chives, shredded carrot and mung bean sprouts.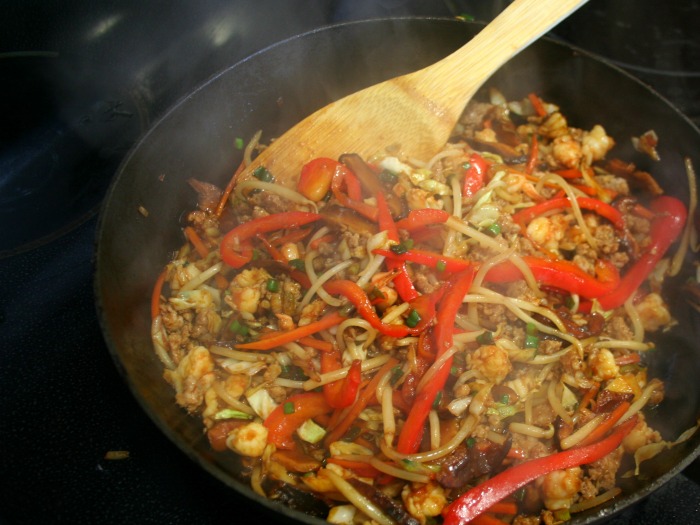 6. Add the sauce to the wok. Add the pork and shrimp back into the pan. Heat through. Remove and cool.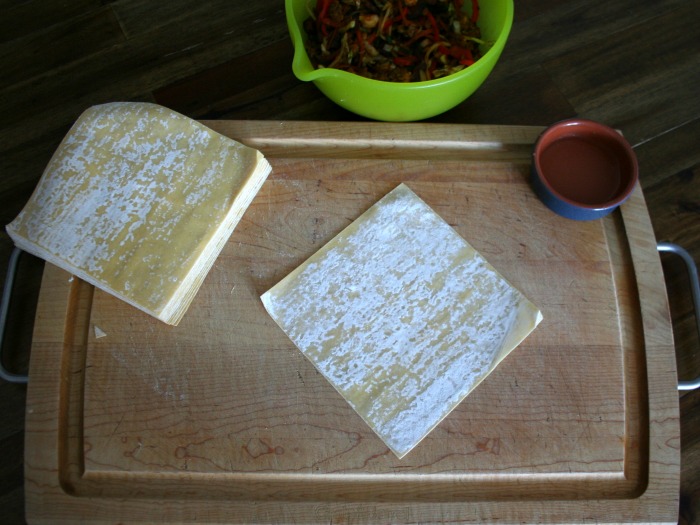 7. Lay a spring roll wrapper in front of you so that it forms a diamond shape. Use your index finger to wet all the edges with water or a cornstarch/water paste.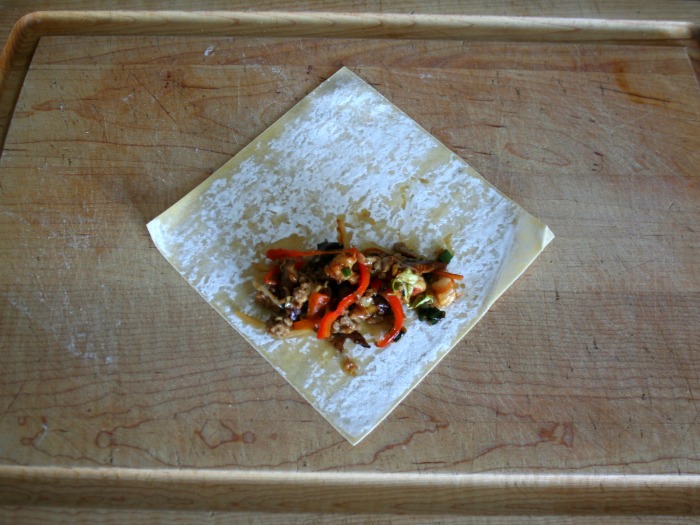 8. Place approximately 2 tablespoons of filling near the bottom.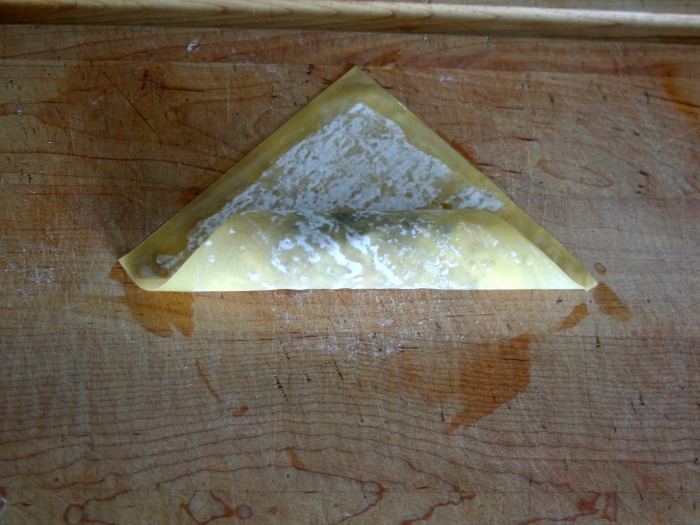 9. Roll over once…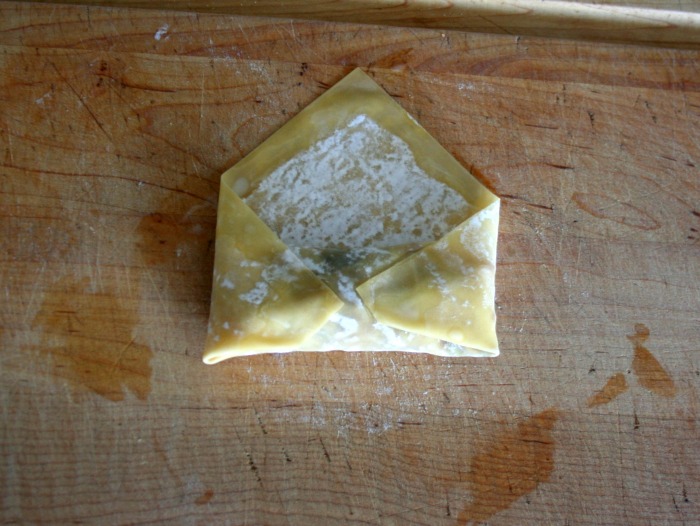 10. …then tuck in the sides…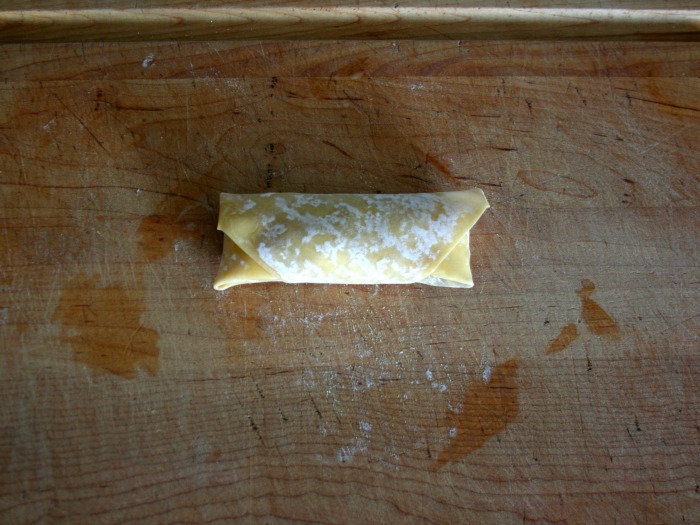 11. …and then continue rolling. Seal the top.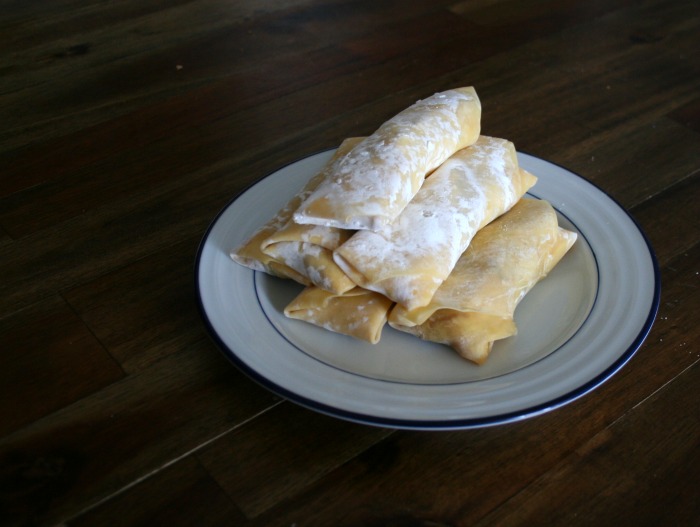 12. Continue folding spring rolls until your piles of filling and wrappers are used up.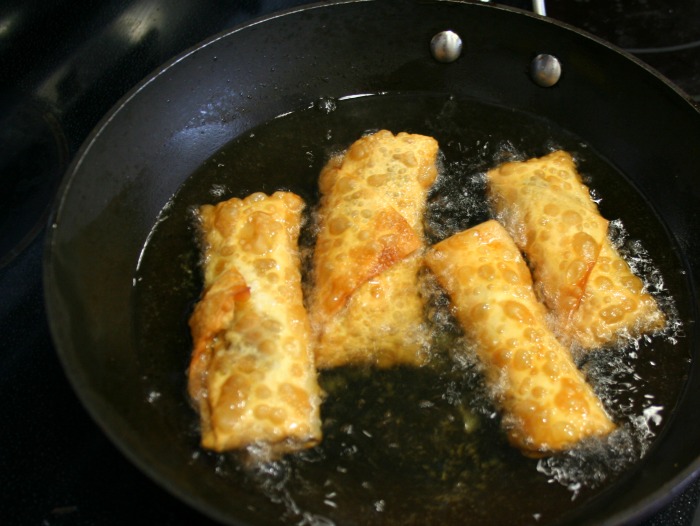 13. Clean out the wok. Pre-heat the oil for deep-frying to 360 degrees Fahrenheit while preparing the spring rolls. Deep-fry the spring rolls in 3 to 4 batches, cooking until they are golden brown and crispy (about 3 minutes). Remove with a slotted spoon and drain on paper towels.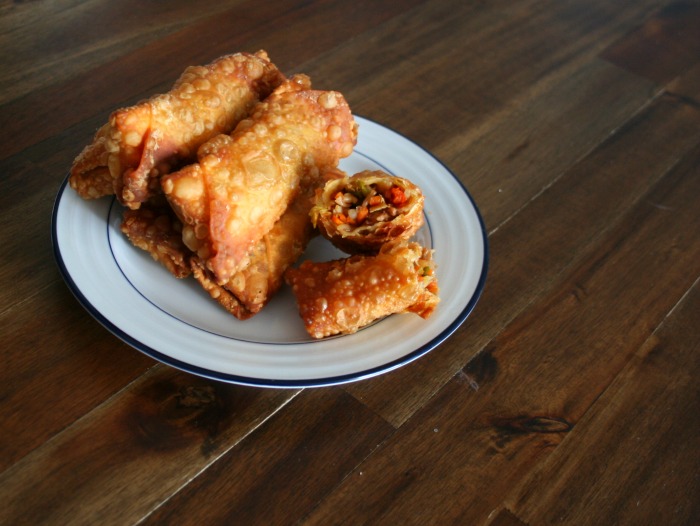 14. Serve the spring rolls with the plum sauce and hot mustard for dipping. If you use wrappers with a bit of egg in them, the spring rolls will fry up with small bubbles in their shells. Wrappers without egg will finish with a smooth exterior. Both are delicious!
---
Learn more about Spring Rolls from these Experts
Watch Musings of a Tea Geek make Spring Rolls in her home kitchen (VIDEO)
Crispy Spring Rolls from Bam's Kitchen
Food Geeks makes a Shanghainese version of Spring Rolls
HT: Photo by splgum.